Jun. 28, 2022
The epidemic is still raging and the international economy is in a downward spiral. Under these tough external conditions, FAWDE, a company with a long history and a reputation as a "fuel-saving expert", has bucked the trend and increased its overseas exports by 55% from January to May, with exports of FAWDE's sub-brand ALLWIN engines increasing by 319%. What has FAWDE done right?
FAWDE steadily develops markets
From January to May, FAWDE exported more than 20,000 engines, excluding off-road engines, FAWDE's complete vehicle power ALLWIN accounted for 32%, and all of them were mainly 11L and 13L machines, an increase of 319% year-on-year.
FAWDE has been exported to more than 50 countries and regions, with more than 6 markets such as South Africa, Russia, Vietnam, Nigeria, Venezuela, and Thailand with more than 1,000 units, of which South Africa and Russia both sold more than 3,000 units in the first five months. FAWDE has always had an excellent reputation in the Russian market. As a result of the Russian-Ukrainian war, European engines could not enter Russia, so customers' demand turned to FAWDE, and FAWDE became the most popular Chinese engine brand.
FAWDE engines have won a reputation for reliability in the international market
Reliable and timely delivery time
At the height of the epidemic, most countries closed their factories and shut down their businesses, breaking the supply chain of parts and making delivery of orders unpredictable. Under the guidance of JIEFANG headquarters, FAWDE relied on its strong system capability and resumed production within the shortest possible time, guaranteeing timely production of engines and intact delivery capacity, and never having a single order paid late. Overseas customers have gone from surprise to praise to recognition. As peers, they know that JIEFANG China and FAWDE must have scientific management capability and strong system strength to deliver on time under such an external environment.
Reliable overseas marketing services
Despite the impact of the epidemic, overseas demand for commercial vehicles has in fact always existed. With reliable engines and reliable deliveries, orders flew to JIEFANG like snowflakes, and Changchun and Wuxi together seized the opportunity to show the reliability of Chinese commercial vehicle enterprises.
The building of reliability is inseparable from the perseverance of FAWDE's overseas staff. The new crown epidemic has been affecting mankind for two and a half years, and people around the world have come quite a long way from the beginning when we were scared because we were unfamiliar with it, to now when we understand it and are scientifically prepared for it. The FAWDE marketing staff stationed overseas, with the iron spirit and wisdom of the JIEFANG people, have been persevering in their posts and working effectively in the local context, laying a solid foundation for FAWDE to win a historic breakthrough in sales in overseas markets. This was nearly two years after their business trip.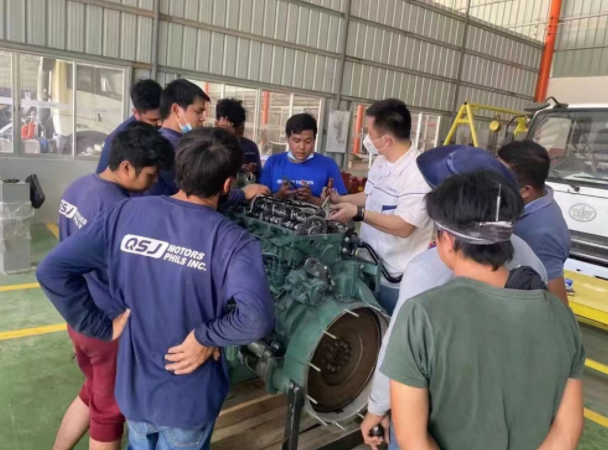 Reliability and fuel efficiency are the common perceptions of FAWDE engines among international customers
After more than twenty years of research and development and improvement by Qian Hengrong, FAWJIEFANG's assistant general manager, general manager of the engine division and secretary of the party committee, and his team, FAWDE has become one of the world's most advanced engines, but the FAWDE brand awareness is still lacking. The epidemic and the Russian-Ukrainian war have created opportunities for Chinese brands, but opportunities are always reserved for those who are prepared. Overseas customers must be convinced by FAWDE's outstanding advantages before they choose FAWDE.
FAWDE engines are reliable and fuel-efficient
Two short engine stories - an explanation of FAWDE's reliability and fuel efficiency.
FAWDE engines are reliable, durable, and have low consumption
Eight years ago, a customer in Mandalay, Myanmar, purchased more than 50 JIEFANG trucks, but the maintenance parts that came with the trucks were used, but the wear parts were never used. Perhaps the trucks had not been used much, the FAWDE staff wondered. During a visit to the market, Xuan found a Burmese customer to ask about it and checked the driving record and policy records. The records showed that the vehicles had traveled 300,000 kilometers and had been serviced as scheduled. Hearing of the FAWDE's visit, the Myanmar customer greeted him warmly and gave him a thumbs up saying, "The quality of your trucks is very reliable, we can't use this batch of wearing parts, can we ship them back to China again?"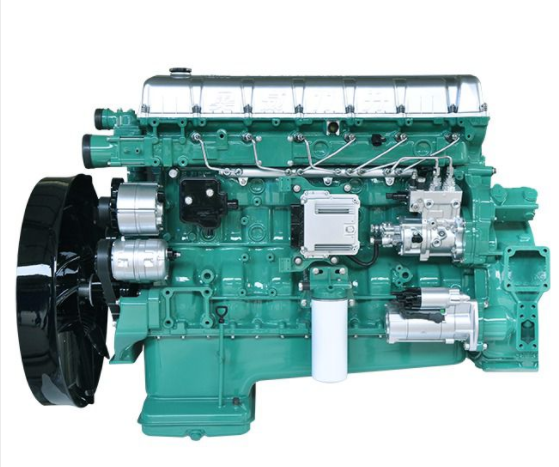 FAWDE engines save fuel
FAWDE's reputation as the "fuel saving expert" has been spread by word of mouth by customers in China, and this reputation was also recognized in 2022 by the mainstream South African truck magazine, FOCUS. The magazine organizes an annual fuel-saving competition for complete trucks, in which participating companies provide tractor heads and hang 56-tonne coal trailers provided by the organizing committee to travel 1,000 kilometers on a designated route. This year Mercedes-Benz, Volvo, Scania, MAN, Iveco, and two Japanese brands all signed up. The only Chinese entry was FAWDE, which sent a JH6 with a 500hp 6DM3 and ZF automatic transmission. After a fierce competition, the JH6 was awarded second place with a score of 50.6 liters, ahead of Mercedes-Benz.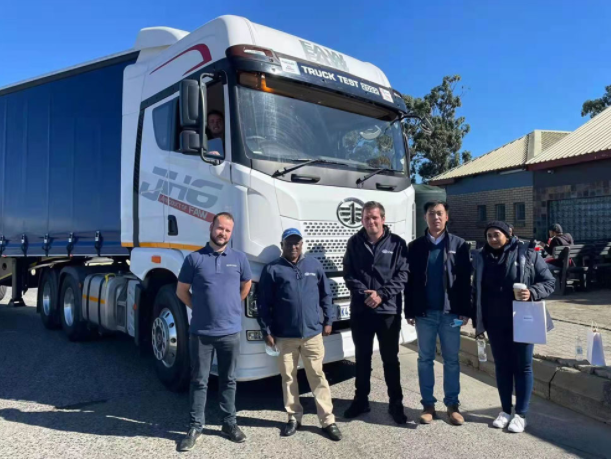 Strong power and excellent performance in mineral transport
"The most fuel-efficient engine made in China!" With the good performance in mineral transportation, South African dealers frequently approached the FAWDE marketing team and orders showed an explosion. the brand awareness of FAWDE was opened up at once and even drove the sales of FAWDE generator sets to take off.
According to the trend of the first five months, FAWDE's historical record of sales in overseas markets this year will soon be set again, and a performance that will attract the attention of the whole industry will be born. These figures tell us that there is a lot of potential for Chinese commercial vehicle power in overseas markets.
What makes us more excited than the figures is that FAWDE, which is already on par with multinational brands, is representing a big step forward for Chinese power on the road to leadership.